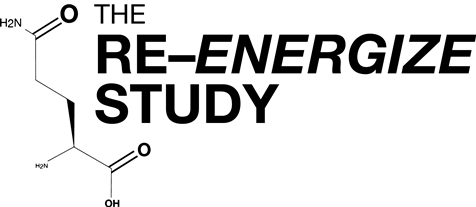 The RE-ENERGIZE Study: RandomizEd Trial of ENtERal Glutamine to minimIZE Thermal Injury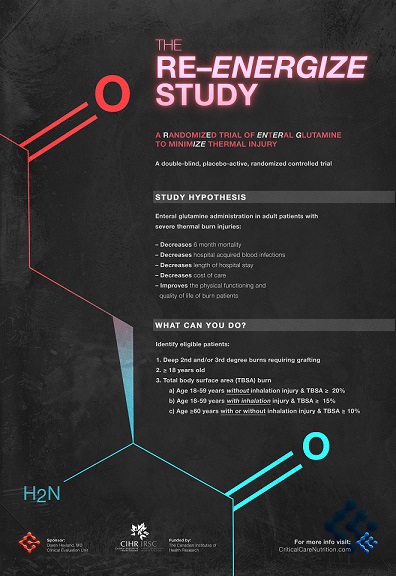 The Clinical Evaluation Research Unit has received a grant worth $5.7 million over 5 years for the international, 60 Acute Care Unit (ICU/Burn Unit) RE-ENERGIZE RCT. The study will investigate the use of glutamine in 2700 patients with severe burn injuries and will evaluate clinical outcomes including mortality and morbidity as well as health related quality of life. Click here to read a local article regarding Dr. Heyland and CERU's acheivement.
The current study is registered at ClinicalTrials.gov under the registration ID NCT00985205 and will continue to be updated.
Recruitment: We continue to actively recruit Acute Care Units (Burn Units/ICUs)
Status: Currently enrolling
Principal Investigator: Daren Heyland
Funding Agency: Canadian Institutes of Health Research (CIHR)
Contact This email address is being protected from spambots. You need JavaScript enabled to view it., Project Leader, for more details or if your site is interested in participating.
The RE-ENERGIZE Pilot Randomized Controlled Trial

Canadian Principal Investigator: Domnique Garrel (University of Montreal)
US Principal Investigator: Paul Wischmeyer (University of Colorado)
Director, Clinical Evaluation Research Unit: Dr. Daren Heyland (Kingston General Hospital)
A pilot study had been completed that enrolled a total of 203 patients from 8 sites in the US and Canada over 3 years. The trial was funded by the American Burns Association/US Department of Defense and the Canadian Institutes of Heath Research and is registered at clinicaltrials.gov under the registration ID NCT00985205 and at controlled-trials.com under the registration ID ISRCTN92905442.
RE-ENERGIZE Articles
The RE-ENERGIZE Protocol - Download Full Article
Re-energising burns research – Download Full Article
RE-ENERGIZE Rag Newsletters