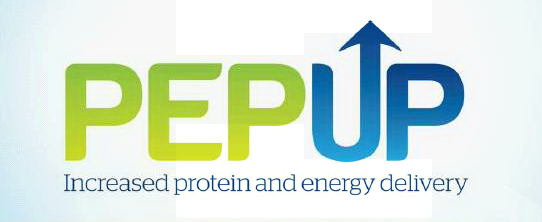 Sites were able to join the PEP uP Collaborative from September 2012 to March 2015, after which time the study tools were made accessible to the public. Below is information about the original Collaborative that started in 2012 with a handful of Canadian sites and grew to include over 40 sites and information on the US Collaborative that was formed in 2014.
All ICUs: Criteria to Participate
To be part of the PEP uP Collaborative and gain access to the PEP uP tools sites had to commit to:
1) Offering these 3 feeding options as a pre-printed order form:
a) Stable patients: volume-based feeding OR
b) Unstable patients: Trophic feeds at 10 ml/hr OR
c) If contraindicated: NPO and indicate reason
2) prophylactic use of motility agents starting on day 1
3) using protein supplements starting on day 1 that provide 24g of protein per day (12g BID)
4) participating in the International Nutrition Survey after the implementation of the PEP UP Protocol to audit practices
Enteral Nutrition Feeding Formula and Strategies
The use of a semi-elemental formula was recommended as part of the safe start bundle as it may be better tolerated in the early phase of critical illness. If this was a barrier to sites implementing the PEP uP protocol, they could choose to use a polymeric or another type of formula at their own discretion. Also, the critical gastric residual volume used in the protocol did not have to be 300 ml; anywhere between 250 to 500 ml was acceptable.
Expectations of PEP uP Collaborative Sites
Use the tools and resources available on our website

Participate in the online discussion group (link available on the PEP uP Tools page) and share experiences with others in the PEP uP Collaborative.

Involve bedside nurses and share experiences with local administration
---
The US PEP uP Collaborative 2014
Several ICUs submitted applications to participate in Tier 1 of this collaborative. Tier 1 sites received:
a site visit and presentation from Dr. Daren Heyland

a PEP uP starter pack provided by Nestle Health Science, including a supply of Peptamen Intense and Beneprotein. (Note: Tier 2 sites could use a formula of their choice)
In addition, Tier 1 & 2 sites received:
access to educational DVD presentations to train their multidisciplinary team

supporting tools such as visual aids and protocol templates

access to a member of the Critical Care Nutrition team for support in implementing the protocol

access to an online discussion group around questions unique to the PEP-UP protocol

a detailed site report showing nutrition performance after participating in INS 2014